Experiencing different food is one of the most wonderful things we can do while traveling in foreign countries. Every country in Asia offers its own food culture. Sri Lankan cuisine is rich in flavors, spices & textures. The aromas make your noses tingle with happiness and the spicy flavors will have you asking for more.
Being an island with a tropical climate, fresh sea food, coconuts, vegetables and spices are the most influential components of Sri Lankan cuisine. Fish, meat and various vegetables are made into yummy curries, and coconut is used in almost every dish.
Listed below are a few food items that you should definitely try during your trip.
Rice and Curry
This typical lunch and dinner staple (pictured above) is made up of rice and a few different curries, fried papadam and green leaf salad. You can find restaurants serving rice and curry everywhere, and each of these dishes are unique.
Hoppers
Hoppers (appa) are made of batter mixed with egg, coconut milk and cooked in a small wok-like pan so that the dough cooks thick and soft on the bottom and thin and crunchy around the edges. A fried egg is added in the middle to create egg hoppers which are highly in demand.
String Hoppers
String hoppers are made from a batter made of rice flour and water, which is squeezed into thin noodles and steamed. String hoppers are usually served with a dhal or potato curry, fish curry and pol sambol (Coconut chutney). It's a popular dish for both breakfast and dinner.
Koththu Roti
Koththu is a plate of chopped up roti mixed with curry sauce and thin slices of vegetables and meat or eggs. It originated in Jaffna, and is widely eaten in the country as a cheap, takeaway meal. When you pass street food outlets you can hear the drumming of Koththu makers.
Pol Roti
Pol Roti is made of flour mixed with salt, water and coconut. It is shaped like a mini flat pancake, and served with either a spicy curry or jam and butter.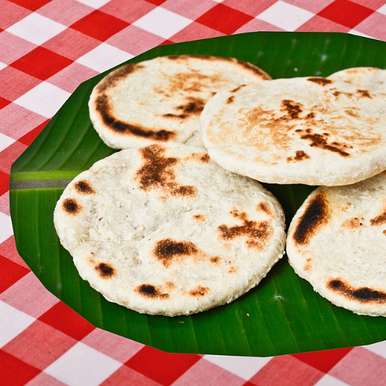 Curd & Treacle
A rich and satisfying dish often served as a dessert. Treacle is a honey-like sauce drizzled over plain (slightly sour) curd which is made of milk. Together, they make an excellent combination.
Fish
The fish curries in Sri Lanka are extremely fragrant and are marvelous with a giant plate of rice. Fish curries come in different forms and taste. Dark and tasty fish ambulthiyal is a popular dish which originated in the southern part of Sri Lanka. It is a must in all kinds of functions.
Parippu (dhal curry)
Dhal curry is one of the most commonly consumed staple dishes in Sri Lankan cuisine. Usually dhal is cooked in a beautiful blend of spices, and then a few spoons of coconut milk are added to create a rich gravy. This is consumed with all forms of rice and bread.
Batu moju (eggplant fry)
Brinjal (eggplant) is another one that you wouldn't get enough of. It's actually regarded more as a pickle. The deep-fried eggplant is cooked with salt, spices, and you will want to eat it with every plate of rice and curry.
The dishes outlined above are absolute staple dishes in Sri Lanka. If you are staying in Colombo, almost all Colombo City Hotels would serve their own takes on these dishes. Make sure to ask and try out these dishes.